Jobs
We like to push boundaries and no two days are the same in our office. We like to play at the top level and nurture a culture of innovation & creativity. If you are keen to be part of a hard-working and visionary team you will fit right in.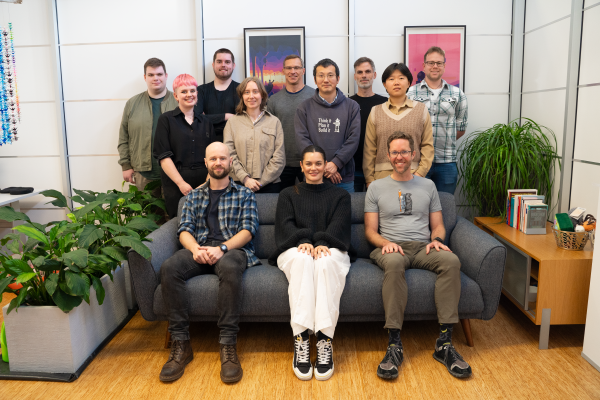 Are you a recent graduate looking to kickstart your career in software development? We are seeking a talented and motivated Junior Developer to join our team – this might be your opportunity!
ABOUT THE ROLE
In this role, you will have the opportunity to work on a variety of exciting projects with clients at home and overseas, ranging from front-end web development to database development, API integration, and cloud infrastructure set-up to name a few!
You will collaborate closely with UX designers, content specialists, and other team members to create innovative solutions that make data and information more accessible. If you are passionate about technology and eager to learn, this is the perfect opportunity for you to grow and develop your skills in a supportive and dynamic environment.
WHAT SKILLS ARE WE LOOKING FOR?
Front-end Web Development (JavaScript, CSS, HTML, and associated technologies)
Familiarity with R and Python (valuable, but not strictly essential)
Familiarity with using web development frameworks to create interactive web applications
Understanding of UX design and development techniques
Strong communication skills, both within the team and with clients or external collaborators
'Nice to have' skills
Cloud Hosting Infrastructure with cloud services such as AWS or Microsoft Azure
Experience developing user-friendly and informative data visualisations
Developing, maintaining and accessing relational databases
Interest in statistics and data science concepts
Comfortable working in both a Windows / Linux environment
Even if you don't meet all the technical skills listed, we still encourage you to apply. We value passion, a willingness to learn, and a collaborative spirit, and welcome candidates who bring these qualities to our team!
WHO SHOULD APPLY?
Our ideal applicant will:
Be a recent university graduate or on-track to graduate with a degree in Computer Science, Software Engineering, or some other related field.
Be passionate about technology and willing to explore new ideas when working on a project!
Be excited about open-source technology and contributing to the community
Have strong verbal and written communication skills
Be excited to contribute to a collaborative, multi-disciplinary team. We work with clients across many different areas and our team experience ranges from software to infrastructure to graphic design to epidemiology, so this is crucial!
Enjoy the opportunity to work in our vibrant Miramar office, share moments with our friendly office dogs, and savour the perks of our barista coffee machine
Bring their A-game to our weekly Stuff quiz and Geoguessr challenge!
If you are excited about the prospect of working on diverse and challenging projects and want to be a part of a dynamic team that values creativity and innovation, we encourage you to apply for the Junior Developer position. Otherwise, if you've got a bit more experience and this sounds like something you'd be interested in, no problem! Please reach out, we'd love to hear from you and discuss some options!
Join us in making data and information more accessible through cutting-edge technology solutions!
Salary range will be matched to skill set and experience.
To apply please provide a CV and a cover letter explaining why you would like to work for us and what you will bring to the role to Petra at petra@epi-interactive.com. You can contact Chris if you have any questions at office@epi-interactive.com. We look forward to hearing from you!
If you are looking for an operations role that has a bit of everything then this could be the opportunity for you!
Our small team is in search of an operations administrator who can contribute significantly to our organisation. We seek someone with experience to focus on structure and provide vital support to our dynamic and vibrant company. Depending on the candidate the hours could range from 20 to 40 hours per week. Make the role your own!
ABOUT THE ROLE
A dynamic and diverse opportunity awaits you in this role. The key responsibilities will revolve around three main areas:
Firstly, you will be responsible for office administration, ensuring the smooth operation of our workplace by managing supplies, equipment, and facilities. This involves creating an efficient and productive work environment for our team.
Secondly, you will play a pivotal role in event and marketing coordination. This includes maintaining event and award databases, planning and executing company events, and supporting marketing efforts by maintaining databases, proofreading marketing materials, and managing social media and email campaigns.
Lastly, you will provide essential administrative support to our leadership team.
You will have the opportunity to contribute to our sustainability and social responsibility initiatives in alignment with B-Corp principles, making a positive impact on the environment and our community.
As you get to know us, you'll also spot other ways you can help – and it's our hope that you'll become an integral part of our operations team and spotting opportunities for us to improve.
WHO SHOULD APPLY
Our ideal applicant will:
Hit the ground running and immediately make an impact.
Have the necessary experience and abilities to pick up and manage a wide variety of responsibilities.
Be able to keep the office well managed and running efficiently.
Support the leadership team with a wide range of tasks.
Take ownership of several key operational tasks.
Enjoy the opportunity to work in our vibrant Miramar office, share moments with our friendly office dogs, and savour the perks of our barista coffee machine
Bring their A-game to our weekly Stuff quiz and Geoguessr challenge!
As an aspiring B-Corp we believe that the principles and practices of Equal Opportunity Employment are crucial to delivering high quality work. We welcome applications from diverse cultural groups and lived experiences. Preserving our planet through sustainability and innovation is important to us and we hope you share these values too. Perks like use of company e-bike, health insurance, and flexible working are all part of the package.
Salary will be based on successful applications experience and what they can bring to the role.
Deadline for application: until the role has been filled. Don't wait, apply now!
Please provide a CV and Cover Letter explaining your rationale for applying for this position to Chris at office@epi-interactive.com. We look forward to hearing from you!
ROLE DESCRIPTION
Office Administration:
Manage office supplies, equipment, and facilities to ensure a productive and efficient work environment.
Event and Marketing Coordination:
Maintain a database of events and awards, tracking important details and deadlines.
Plan, coordinate, and execute company events, meetings, and workshops
Assist with event logistics, including venue selection, and catering requirements.
Ensure events run smoothly and provide excellent support to attendees.
Maintain customer databases and marketing campaign data.
Assist in creating and proofreading marketing materials such as our newsletter
Maintaining mailing lists and collating statistics.
Schedule and monitor social media posts and engagement.
Assist in creating and tracking email marketing campaigns.
Administrative Support to Leadership Team:
Assist the leadership team with administrative tasks, such as calendar management, document preparation, Gitlab information transferring and general support.
Handle confidential and sensitive information with discretion and professionalism.
General Support:
Undertake ad-hoc projects and tasks as requested by management.
Continuously identify opportunities for process improvement and implement efficient solutions.